June is the month when we air out our camping gear and study the calendar for the perfect weekend to pack up and spend a few days in nature.
Whether you are pitching a tent in the backyard or camping on a pebbly lake shore, cooking over an open fire is such a fun family experience. We generally stick to real food camping meals, but once in a while it's fun to roast a sausage on a stick and wrap it in a soft bun. For our (mostly) whole foods family, this takes a bit of planning, but here's how I prep for a cook-out.
We'll go to a nearby farm we know of that sells lamb sausage, or we'll pick up organic, all-beef hot dogs at our local market for the excursion, so finding whole-food sausage is fairly easily done. But then there is the problem of the buns, as I refuse to buy pasty, all-white buns that are filled with sugar and who knows what else. I'll consume these at the occasional hockey game, but I sure am not stocking up on them for a camping trip.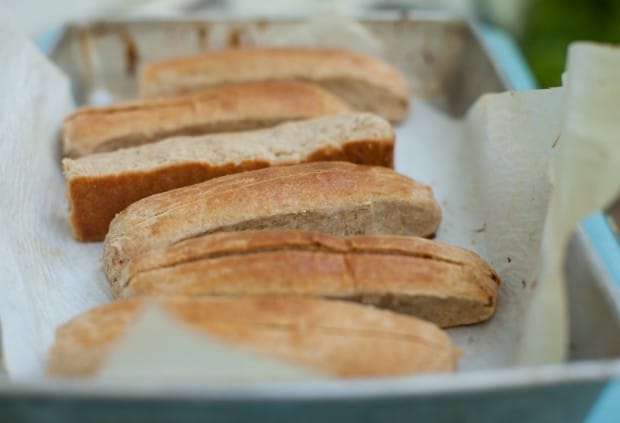 Our local health food store sells some decent unprocessed hot dog buns, but they cost a pretty penny, and around here we're all about eating well and spending less. In fact, it's my theme for this post, along with summer food to go.
So, for the past two summers I've been making my hot-dog buns and they are so, so great. A bit of butter and an egg in the dough keeps them soft, buttermilk gives the buns a nice tangy flavor,  and the whole wheat flour makes for a substantial roll that can hold up to the heftiest sausage.
Read on for the recipe and more suggestions for the best camping foods EVER!